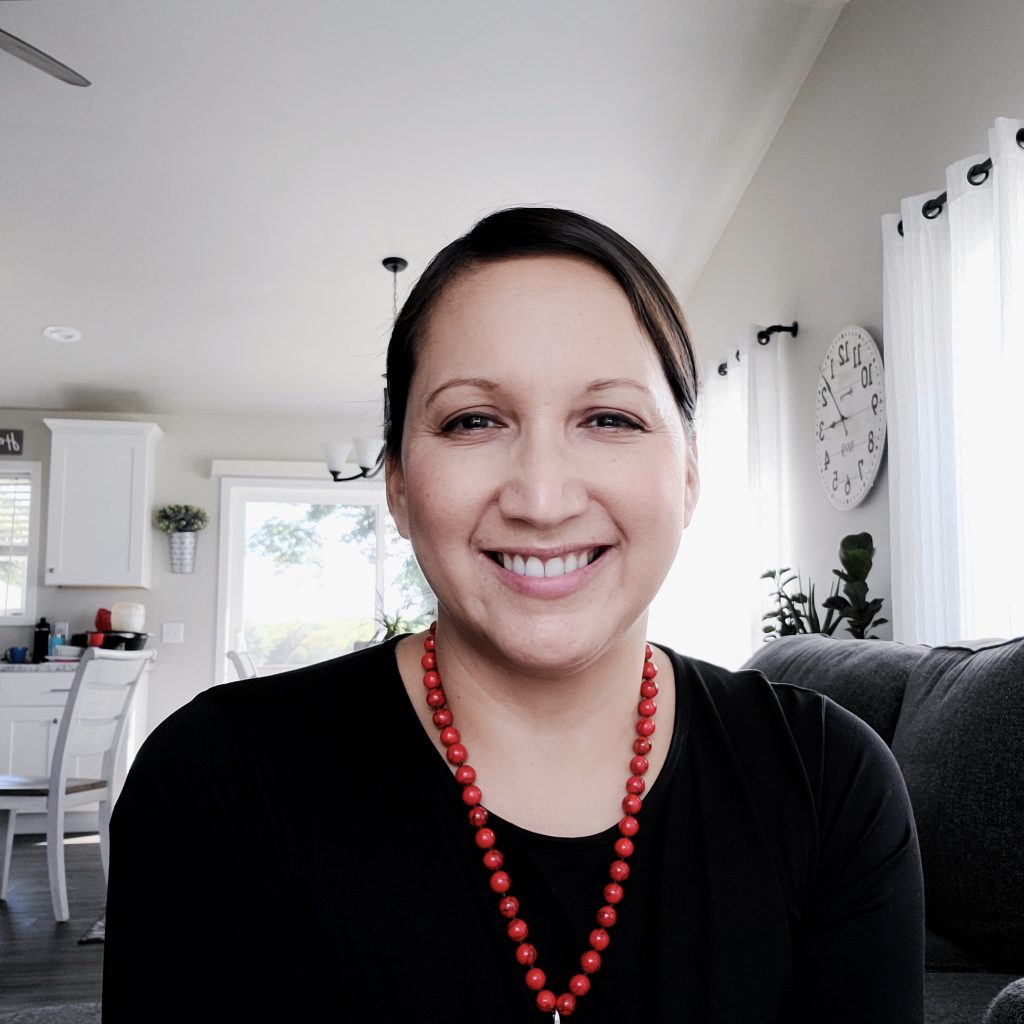 (Co-chairman representing Eagle Clan duties)
I am the daughter of Jerry and Patricia Chapman.  My paternal grandparents are Arthur and Lucille (Beauprey) Chapman.  My maternal grandparents are Alex and Sue (John) Askenette.  I was born and raised on the Menominee Indian Reservation. I live in Shawano with my partner Brian Grignon, and our family.  I love to attend my kids sporting events and I also love to travel with my family.  My hobbies include outdoor activities such as hiking, biking and kayaking. When I have the time, I also enjoy reading. 
January 2022 marked my 25th year in education. I spent 20 wonderful years at the Menominee Tribal School: student teacher; 3rd, 4th, and 5th grade teacher; 3 years as Assistant Principal, and then 5 years as Principal/Administrator. In 2016, I began a new journey as the Menominee Tribal Education Director and continue to serve in this role. My career also includes board service: Founding Governance Board member of Kaehke̅nawapahta̅e̅q (2021-present); Wisconsin Indian Education Association (2016-present); College of Menominee Nation Board of Trustees (2017-present); Shawano School District Title VI Indian Education Parent Advisory Committee (2017-present); and the Menominee Indian School District Board of Education (2005-2008). My life's work has been dedicated to the educational advancement of the Menominee people.
I am very grateful and very excited to be a part of the journey to create a Menominee language-based Montessori school. It is my vision that our students and their families will be empowered through the language and traditional practices of the Menominee, firmly grounded in who we are as Menominee and carrying that forward for generations to come. It is also my vision that bringing the Montessori method to the community schools will empower our students and build on their academic strengths, fostering a generation of creative thinkers and problem solvers so that our community can flourish.
High School Diploma from Menominee Indian High School (1991); Bachelor's Degree in Elementary Education from St. Norbert College (1996); Master's Degree in Educational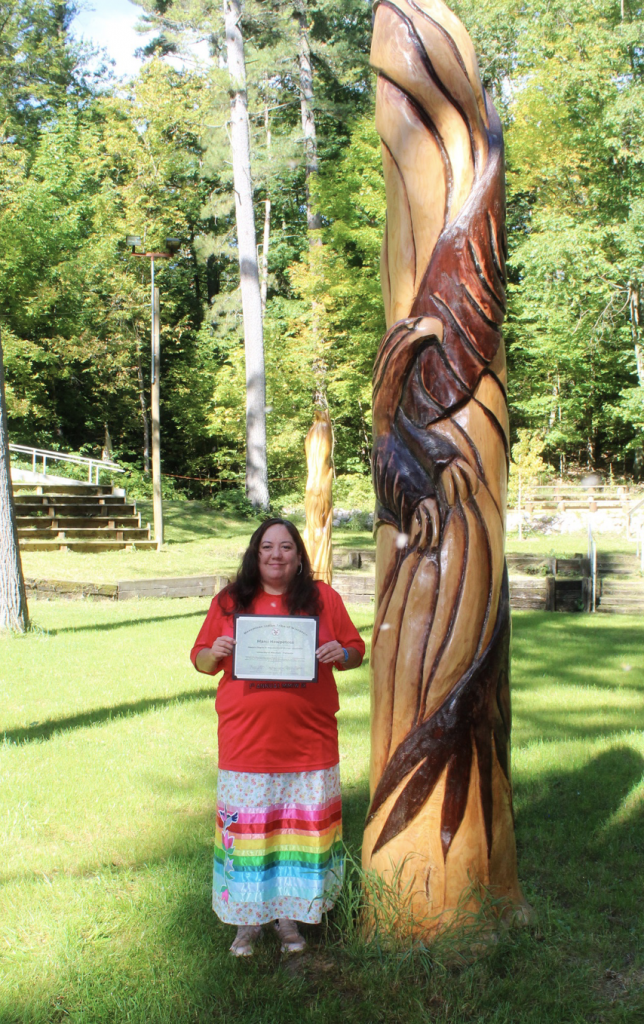 (Secretary representing Wolf Clan duties)
Pōsōh! Newihswan Marci Hawpetoss, mamaceqtaw newihswan Notinoquay, mesek netotaem enaemakiw awew.  I was raised on the Menominee Indian Reservation.

This initiative has always been an important focal point for me and others. It has brought a team of individuals together who have a shared commitment to see this effort through, while also acknowledging the language and teacher warriors of the past who have made the Kaehkenawapahtaeq Charter School possible. Personally, I want our children to experience an educational system that shows them how to live congruently with the Menominee language, culture and land, and academics. While the charter school will have its own methods and curriculum, it is my hope that this unique educational offering influences our community and Nation to live this way as well.

Our community needs this school to move our Menominee language from being "severely endangered" to "sustainable and thriving" by creating opportunity for multiple generations of speakers who will become leaders of this community, respectively.

I am a graduate of the Menominee Indian High School Class (1998), Bachelor of Arts degree in Political Science from University of Minnesota (2004), and Master of Science degree in Organizational Change Leadership from UW Platteville (2021). Currently, I am a student of the Menominee language at MenominiyoU. I work at the Menominee Indian Tribe of Wisconsin – Department of Administration as the Grants Manager.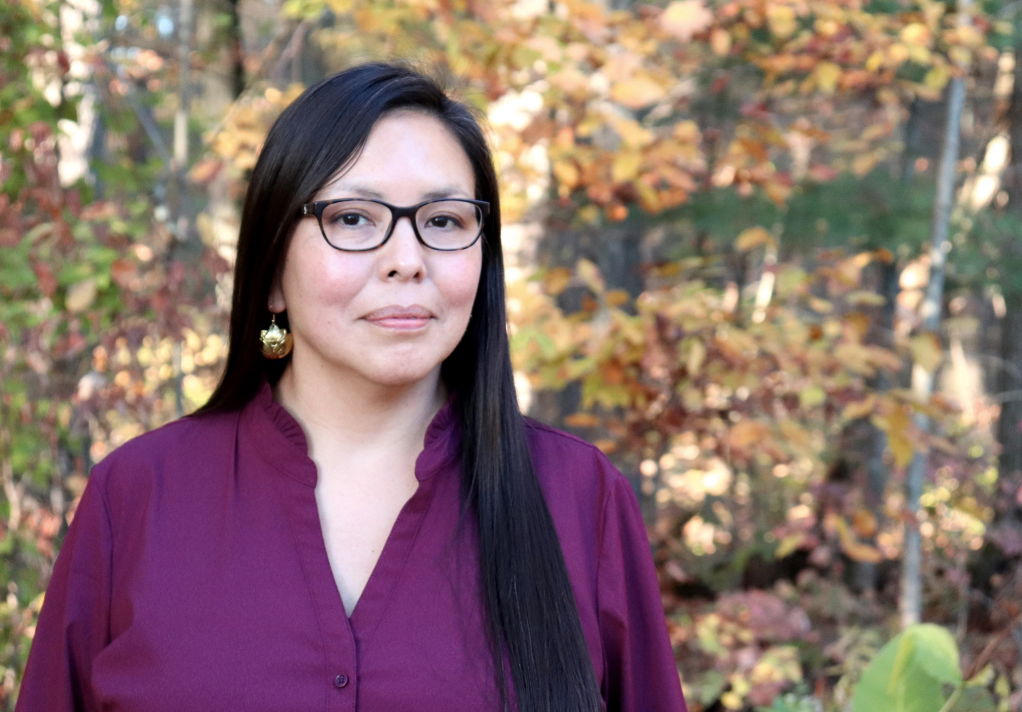 Jennifer Gauthier (Treasurer representing Crane Clan duties)
Pōsōh newīhswan Jennifer K. Gauthier mesek Nayaetamoh eneq a͞ekaeyan. My parents are Spencer Gauthier and Lenore Waukau. My paternal grandparents are Cynthia "Nepew" Winneshiek Gauthier and Theodore "Sapatis" Gauthier; My maternal grandparents are Edith and Hilary Waukau. Outside of work I enjoy spending time with my family, beading, weaving, growing food, picking berries and milkweed, and fishing.
I was asked to sit on this board and hope that my familiarity with the Menominee language, local governing structures, and organizational planning help with the school's foundations. Our community needs this school so that our language can continue to thrive in an environment that reflects Menominee values and ways of learning.
The manner in which the charter school is being built is inclusive of our language teachers, children, parents, and community members' voices. It has been an incredible experience participating in the early stages of this school's creation and there are so many wonderful ideas being shared. Our people are excited at the hope this school holds and this feeling is tangible.
I am a Menominee Indian School District Alumni. I also have a bachelor's degree from the University of Wisconsin-Madison in Political Science and a Master of Public Administration from the University of Wisconsin Oshkosh.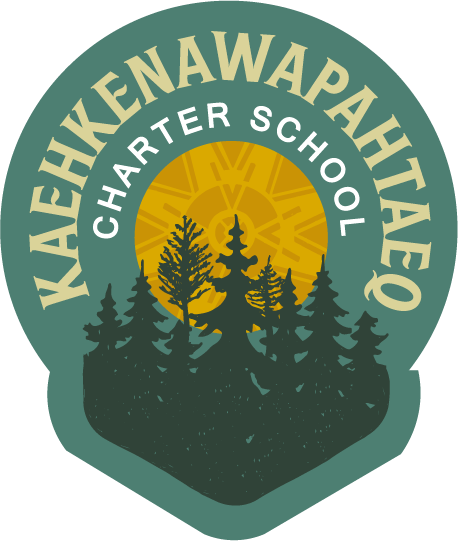 Crystal Lepscier (Communications Coordinator representing Moose Clan duties)
Pōsōh newīhswan Crystal Lepscier mesek Waqsepāēhketukiw eneq a͞ekaeyan. I represent the Bear and Muskrat Clans. My parents are Scott Tourtillott (kaeh nap) and Antoinette (Vele) Tourtillott. My paternal grandparents are Roger Tourtillott (kaeh nap) and Kay Richmond (kaeh nap). My maternal grandparents are Merton Vele (kaeh nap) and Carol (Ludin) Vele (kaeh nap). My husband is Justin Lepscier and our children are Caroline (Pepōnokimukiw) and Jacob (Tatāhkesen).
For fun, I like to read. I enjoy many genres of books, with historical fiction at the top. I also enjoy beading and creating art when I have the time and space to do so. Getting outdoors is enjoyable in most seasons, there is always something to do with family. I do what I can to learn the language and have enjoyed time spent with MenominiyoU.
I chose to serve on the governance board because I believe that expression of tribal sovereignty can happen within our educational systems. I have come to understand that language learning is central to culture and to Menominee specific teachings and ways of being. I believe that when children can be strong in their identities as Menominee people, this can serve to carry them as they move through this world, living their gifts. The strength of knowing who you are and expressing that daily is vital to a wholeness of being, to always having an anchor set in place so you never get lost. Active connections that center the wellness of community through culture and language strengthens the people.
I think that this school will create an educational space which supports foundational cultural knowledge which can serve to bring together a stronger community, building leaders who find strength in their identities, and honor the connections we have to one another. The school is an innovative space that connects our now to the past and projects us to the future of possibilities, where learners are guided by ancestral knowledge to build a space informed by the 4R's; respect, reciprocity, relationships, and responsibility.
UW-Madison, BFA Studio Art (2005), M.S. Educational Leadership and Policy Analysis (ELPA), (2011). Currently a doctoral candidate in the First Nations Education Doctorate program at UW Green Bay. WIEA Board Treasurer (April 2021-Current), Cooweeja American Indian Affinity Group (WAA) (July 2021-Current).

(Co-Chairman representing Bear Clan duties)
Posoh Mawaw New Weyak! Pakahcekaew nekew-ehkaem. Joey Awonohopay eneq aes- wihseyan. I am the grandson of Johnson and Francis Awonohopay (kaehnap) and currently dwelling at the place where the rivers fork on my homeland.